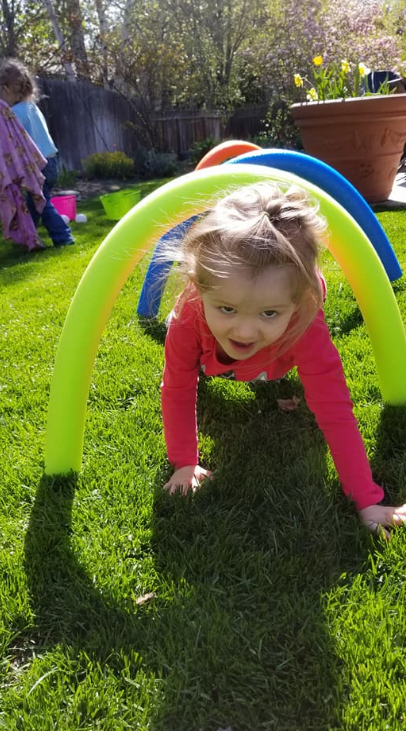 I have three year old twins who have a talent for finding trouble when left to entertain themselves. In order to save my sanity I'm always looking for ways to keep them safe and stimulated. After some time scouring Pinterest, we rode the bike to The Dollar Store and grabbed some supplies to create a backyard obstacle course. Once it was all set up, this course kept my girls busy all morning, they loved going through it again and again. I know when my older kids get home it'll be a hit with them as well. I like that it's simple and we can add to it or modify it as we find more stuff.
I used pool noodles to create a tunnel system. Using wooden BBQ skewers to attach them to the grass on either side I was able to make each tunnel.
Next, I used jump ropes to make circles on the grass for them to hop through. I think I'll watch for hula hoops to modify this obstacle and maybe use these ropes to create an elevated walk/run through course. The ropes worked OK, but I had to keep adjusting them.
I took these small orange cones and lined them up for the girls to weave through while running. They liked trying not to knock them over.
Finally, I placed a couple of baskets at the end with some balls for them to shoot baskets with. They loved watching each other and cheering.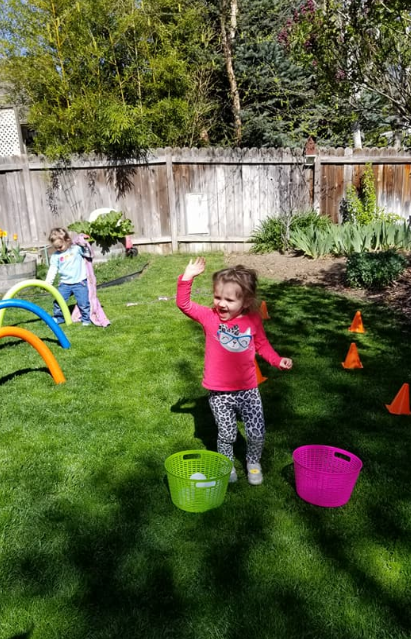 All of these were items I got at The Dollar Store today for about $10, but I think I may expand on this course with stuff I already have at home to keep it fun. I have a tunnel that I'll bring out later this afternoon as well as pulling out the kiddie slide. I may expand it to tire them out quicker as well. Maybe even create hurdles somehow to put right at the finish line. All in all this was a great inexpensive activity for my kids that will keep them happy for quite some time.
Macaroni Kid Meridian is a free weekly newsletter and website focused on fun family events in the Meridian, Eagle, Kuna, and Star area. We gather together all kinds of local kid-friendly activities each week, and add useful information about classes, businesses, book and product reviews, recipes, crafts, school and camp guides and more. Subscribe for free at Meridian.macaronikid.com

Some other articles you may enjoy: